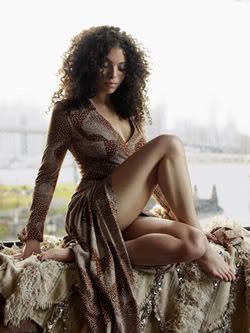 Nu-Soul: Tell me about your background and how you got into music.
Erika: I came out as a young child being very into the arts and being creative. My dad's brother is a musician and I grew up in that environment. It wasn't encouraged by my parents with my father seeing my uncle's struggle so I was a closet artist for a long time. It wasn't until college that I had a breakdown and told my parents whether they supported me or not this is what I had to do. My childhood friend, who is Alicia Keys, had gotten a deal when she was 16 and I didn't want to say anything because I didn't want her to think because she got a record deal that suddenly I wanted to be a singer even though that was my dream. My uncle called her and told her I was really talented and she told me to come to New York. Every break I had from school, I would fly up there and we would work on music. Her and Kerry helped me with my demo and started developing me. At that time, I also I wrote with her on "A Woman's Worth."

Nu-Soul: How did you end up working with Alicia on her tour and what was that like?
Erika: Alicia asked me to go with her for a couple weeks and the road manager at the time had to leave so I said I would do the job. I ended up taking on the road manager position for 2 years, which was very unexpected. I was managing the whole tour and was fresh out of school with no clue. By the end, Alicia was happy with my performance and so was her manager. I was hired as her day-to-day manager with the idea that I would put together a team and leave at some point. I helped her build that team which took another 2 years. I gained a lot of experience and was able to spend four incredible years with my best friend and damn near get a PHD in the music business.

Nu-Soul: How were you able to rediscover Erika after that?
Erika: I took a trip to Spain for 6 weeks where I lived in a tent and was like a gypsy girl roaming around playing my guitar. That allowed me to connect and remember that I was talented and business savvy but I was an artist and that is what I was meant to do. One day I just called in and said I am not coming to work today and I am done. It was that moment where I knew it was okay to leave.

Nu-Soul: How did you link with O'mas and what role did he play in creating the album, Rosegarden?
Erika: I went to California for my friend Laurie Ann Gibson who was casting for the group SA-RA who had just been signed by Kanye West. O'mas and I really clicked and we had very similar tastes in music. I told him that I wanted to cut a record and he was into it. We went in and cut a song and it was like magic. From there, it was a no brainer and that is what we did. We did the whole album together.

Nu-Soul: What is the concept behind the single, "Rosegarden"?
Erika: It's funny but Alicia told me I should make a song called "Rosegarden." When we started making the track we knew that was it. For me growing up in the eighties and nineties, you started seeing a lot more booties hanging out and women were being portrayed in this sort of oversexed and almost disrespectful way. I didn't feel empowered by some of the imagery and lyrics. I am very connected to my femininity and sexuality and it's something I think is beautiful and I am proud of. I think women are beautiful and intimacy is almost next to Godliness. Like Minnie Ripperton saying will you come inside me. It doesn't get anymore blatant than that but you wanted to eat it up. I wanted to bring it back there and say it's okay to express it but let's bring it back to its purity.

Nu-Soul: Do you think it is a challenge because you are so in touch with your sexual side?
Erika: It's interesting because sex sells. I am not going to hide in rebellion because that is what is out there. I am going to embrace who I am and put myself out there in a way I'm comfortable. I don't feel pressure to be like that. It's not natural for me.
erika2.jpgNu-Soul: Where do you get your inspiration for your lyrics and song concepts?
Erika: Lyrically, it's really autobiographical. Life is so full from personal relationships and social and political issues. There is enough drama to go around so I am never at a lack for subject. My mind always runs rampant. (Laughing)

Nu-Soul: How would you describe your sound to someone that has never heard you?
Erika: It's really an eclectic album. It's a very cynical corporate music world. Everyone is like what is this. They want to tell me it's a straight up soul record because I have written with Alicia but it's not that. I'm an interracial girl and I never felt like I was one thing or another. I wanted to make a mixture of one thing because that is kind of how I feel in the world. I basically synergized the music I love the most and made it into a record. It's a little bit of everything. The approach I took with this record was complete freedom.

Nu-Soul: Do you think you will ever take the major label route?
Erika: I wanted to do this a grassroots way so if someone caught an interest, they would know what they were getting and wouldn't try to make me into something that I'm not. It would have to be the right situation. The whole label thing is very sketchy right now.

Nu-Soul: Tell me about Infinity Le Monde.
Erika: That is the company that O'mas and I started to present this collaboration. We wanted to show the infinite possibilities of what it could be and not allow ourselves to be bound by what the commercial standards are telling us it has to be. We created this for other artists that we feel share the same thing. It's about artist empowerment, creativity, and expression. We want to give artists a platform to get out their music in a way that they may not be able to in that confined major label setting. O'mas is doing his solo record through the company and we have about three or four people that are sort of in the wings. Since we are independent, we don't have a staff or anything. We have to focus on one project at a time so people know when we release a record it will be something that is unique and of quality.

Nu-Soul: What is it like being on tour with Alicia and what can we expect from an Erike Rose show?
Erika: It's so much better! I see people walking around stone faced and I am like, that is how I used to look! It's nice to be on this side. I go on fairly early so it's not as full as I like but its great fun to work the stage and connect with all those people in there. I am very much into live instrumentation so unfortunately I don't play with a band but O'mas is up there playing guitar. I am paying my dues just like everyone else had to do. (Laughing) I love every minute of it. I strongly advise people to catch me at my smaller shows.

Nu-Soul: Does Alicia Keys ever encourage you?
Erika: She does and she believes in me and tells me to just keep trucking forward. She has been such a living example of that. It seemed like she had a great deal at 16 but she still struggled. That was another great lesson I learned. I thought I would just make a record, put out a video and that would be it! After going through that with her I realized that was not what I wanted but I really learned what it takes. She busts her ass all day every day. I have to kick her to go on vacation. But I knew what I was getting myself into. It's an uphill battle. I know this is all a part of the path and journey. I decorate houses during the day all day and go to the studio at night. So, it's a hustle.

Nu-Soul: If I wrote a movie about your life what would the theme song be and who would play you?
Erika: Man these questions! I am bad with some of these. (Laughing). Can I play me? I don't know who would play me. (Laughing) Although, I really like Zoë Saldana and Paula Patton. They are so adorable. My life at such a young age has changed drastically in some periods. There are so many different movements. It would have to be a symphony or classical piece like a Mozart or Bach.

Nu-Soul: Are you working on a new album?
Erika: I am. Rosegarden hasn't quite seen the light of day like I've wanted but I'm always working on new material.
SOURCE:
http://blog.nu-soulmag.com/?p=238
My favorite artist is one of her childhood friends? Nice. I'm definitely interested in hearing her material. I'm on the hunt!