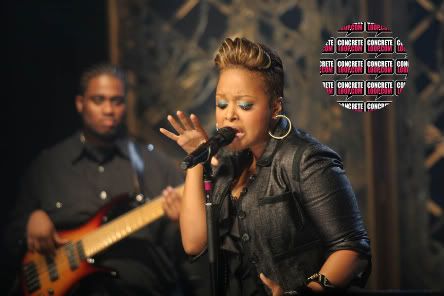 The 30-minute set on Vh1 Soul's SoulStage, which was taped earlier this week, will premiere
Tuesday, April 28th at 10PM (EST)
on Vh1 Soul and will premiere at midnight on Vh1.
Chrisette Michele is not a stranger to Vh1's SoulStage. Last year, she performed alongside The Roots for their track "Rising Up" and she also performed "Be Ok"(below). Now it's time for her to shine on her own and there isn't any doubt that she will. Chrisette always puts so much soul and energy into her live performances so her SoulStage will be fan-tas-tic. Make yourself a reminder to watch it!





And I'm going to try to make this my last post about Chrisette until the album review. I'm also trying not to listen to any more new tracks until the album is released. I doubt that will work out...both of them.


Album: May 5th. SoulStage: April 28th.



Obvious thanks to Concreteloop for the photo.